A Night of Master Distillers
A Kentucky Bourbon Festival Event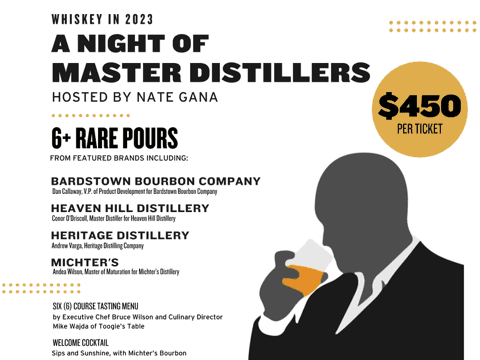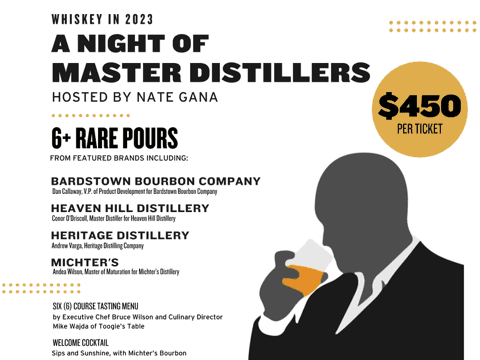 Enjoy a fun evening hosted by Nate Gana. He will be joined by Dan Callaway, V.P. of Product Development for Bardstown Bourbon Company; Conor O'Driscoll, Master Distiller for Heaven Hill Distillery; Andea Wilson, Master of Maturation for Michter's Distillery; and Andrew Varga with Heritage Distilling Company. You will enjoy hard-to-find neat pours, hand-crafted cocktails, and a 6-course tasting menu designed by Executive Chef Bruce Wilson and Culinary Director Mike Wajda of Toogie's Table. One night only and only in the Bourbon Capital of the World!
Featured Brands:
Michter's: 10-Year Bourbon
Bardstown Bourbon Company: Doisy Deane Distillery Ltd Edition
Heaven Hill Distillery: 20-Year Corn Whiskey
Heritage Distilling: TBD
Plus a Few Surprises!
Tickets are limited and are $450 per person. Tickets must be purchased through the Kentucky Bourbon Festival website.